Hollywood Air Duct & Dryer Vent Cleaning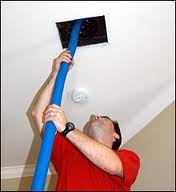 Homeowners have to deal with many daily situations, and regrettably sometimes they tend to miss many important aspects of their home. Nevertheless, with many years of experience, the team at Hollywood Carpet and Air Duct Cleaning understands this and they know what to look for. If your dryer vents and air ducts are not properly maintained then they can become dangerous fire hazards. If they are not cleaned properly, flammable particles can remain and quickly ignite when heated. If you have some questions or worries concerning the importance of dryer vents, HVAC and air duct cleaning in Hollywood, CA, please feel free and do not hesitate to contact us and we can talk you through the process of dealing with the little things we might overlook as homeowners. Air duct cleaning in Hollywood, CA, dryer vent cleaning and HVAC is easy for us; due to the fact that we do it all the time, so takes a minute to call the professionals – remember we are here to help. If you give our team of service professionals a call today, they are ready, willing and able to help you and will be ready to answer any and all questions that may arise.
Call today – (800) 259-2308
We are locally owned and operated, and we are even homeowners ourselves in the area. We are very aware of many things that are important for you and that you should take into consideration when you are looking for a cleaning company. Above all else it is important to remember that you should find a company that is qualified as per required state, local and industry standards. You can have confidence that all of our team members have worked to earn all certifications and training possible. Reap our benefits by hiring Hollywood Carpet and Air Duct Cleaning. Hollywood, CA residents should get in touch with us right away to find out more.
Do you really need your air ducts and dryer vents cleaned in Hollywood, CA?

The answer is YES! Did you know that the air inside of our homes is usually a lot more polluted than the air we come in contact with outside? It might be a frightening and gross thought, however, it is too real. If you have recently woken up with a tickle in your throat then you might need to have the air ducts cleaned. In terms of breathing the air in your home, do you feel that there is a momentous difference when you walk outside – can you feel mustiness in the air when you come back inside? HVAC cleaning and air duct cleaning in Hollywood, California is a wonderful solution that we offer to customers. Our skillfully trained staff will not only get rid of all the dust mites, bacteria, and germs that may be lurking in your air ducts but they can teach you how to prevent them from resurfacing. Have you started to notice bizarre odors in your home when you come in from outside? When your heater turns on, can you smell something a little bit different? The problem could be hiding in your air vents. You should give our friendly staff a call today, and we will outline a custom-made solution for the things that may be causing your ducts to distribute dirty air. When you have Hollywood air duct cleaning done by us, you can expect your energy bill to drop too as your system doesn't have to work as hard to function correctly. Ask us about Hollywood HVAC systems and the importance of Hollywood, California air duct cleaning and dryer vent cleaning.
Call today – (800) 259-2308